Human-Centered, Human-Like AI
Brainsoft is a startup specializing in artificial intelligence technology
based on deep learning and neuroscience.
As our first step, we have been developing speech recognition technology
using a high-resolution spectrogram, inspired by the human auditory system.
The next-generation AI that understands any sounds like a human
Short-Time Fourier Transform has formed the basis for the vast majority of
sound technologies since its inception.
The first goal we have is to replace Short-Time Fourier Transform with our transform technology
which will significantly improve speech recognition and speaker verification accuracy.
Through our technology in high-resolution spectrogram,
Brainsoft resolves problems in the field of AI voice and continues to grow rapidly with its global competitive edge.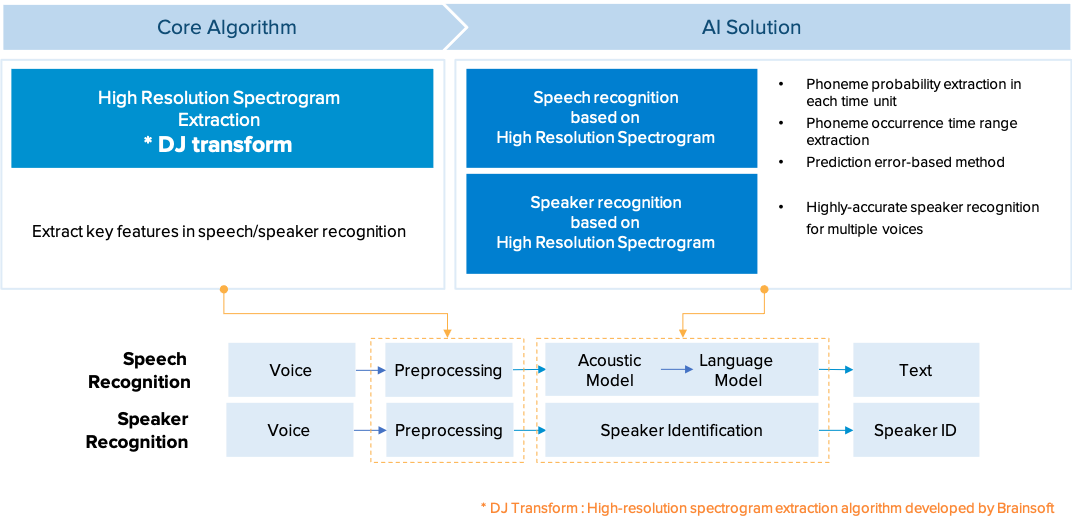 Address

4F, 168 Yeoksam-ro, Gangnam-gu, Seoul

Subway

Line No.2 Yeoksam Station Exit 2

Email.

contact@brainsoft.ai
Address

4F, 168 Yeoksam-ro, Gangnam-gu, Seoul

Subway

Line No.2 Yeoksam Station Exit 2

Email.

contact@brainsoft.ai